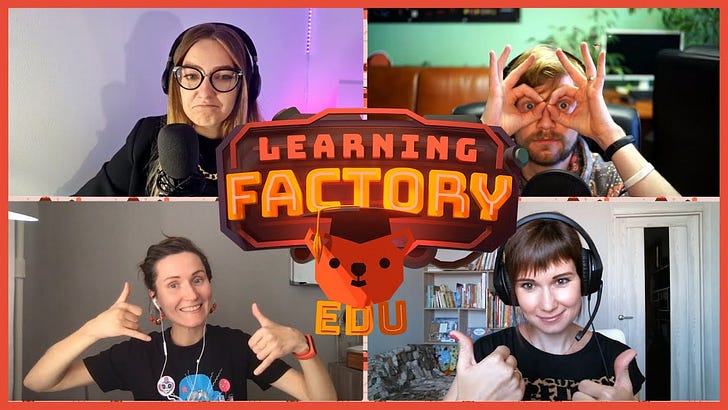 Sep 4, 2021 • 39M
Gamedevs x Geek Teachers 🐾🐾 Are you happy going back to school?
We discuss our school experience and play Learning Factory.
This is all about adapting our video games for educational purposes.
Have you ever been to a summer camp? Do you remember that feeling when you have to leave all your new friends and return home? At the end of this episode, we all almost burst into tears since this podcast season is over.
But people, if you love us and this show - do tell us, so we do a bonus episode or find ways to start another season.
This video is long for a purpose - Kate, Rita and Georgii align on the transformation that kids should experience after playing Learning Factory EDU, we ideate on the flow between the educational version and Learning Factory that you can get on Steam, we think about the teachers' experience and just bounce emotions about what Learning Factory means for us.
We start the episode in a sad tone - for Lera, Rita and Olle the start of the new school season brings negative flashbacks. And we end the episode hoping that kids of the future will have a better experience at school and that we at Luden.io are doing our part to make it happen.
See you all in the comments or on the Discord server.
Links: